International Film Festival of Patmos
The International Film Festival of Patmos combines the idyllic backdrop of Patmos with the cutting edge of film to create a unique, creative experience. With its breathtaking natural beauty and rich cultural heritage, Patmos has traditionally attracted people of the arts and cinema in particular.
The vision of IFFP is to make this treasured destination an exciting place for celebrating talent, originality and craftsmanship in world cinema today. Their long-term goal is to turn IFFP into a platform for a creative exchange of ideas between Greek and foreign filmmakers and a forum for international partnerships and co-productions.
Source: IFFP
Festival of Sacred Music of Patmos
As every year The Sacred Music Festival of Patmos will be held between August 29th – September 3rd, at an appropriate configured outdoor area of a 900-capacity venue, in front of the Holly Cave, where, according to tradition, Saint John wrote the Book of Revelation. Artistic Director, is the Conductor Alkis Baltas and the festival is organized by the Cultural Center of the local Municipality.
The Sacred Music Festival of Patmos, which begun in 2001, enters its second decade of artistic offering. During this period it has established itself as one of the major summer cultural events in Greece. The main axis of the festival's programming since its founding, a decade ago, by artistic director Alkis Baltas has been Christian faith, as a constant source of inspiration. It is no coincidence that every year the Festival attracts more and more visitors who wish to experience the special atmosphere of the festival and enjoy the natural beauties of the island.
The Artistic Director of the Festival, Conductor Alkis Baltas, repeatedly refers to the uniqueness of this event "this is not a charming and lightweight celebration of music," he says. "Only a spiritual and serious music festival could take place in front of the sacred grotto where St John wrote the Apocalypse and this is exactly what we are doing"
The Festival of Sacred Music of Patmos, despite the harsh financial times, it insists in offering to its public, programs of high quality wishing to cover even the most discerning listener with a variety and wide range of musical choices as well as the presence of distinguished artists from Greece and abroad.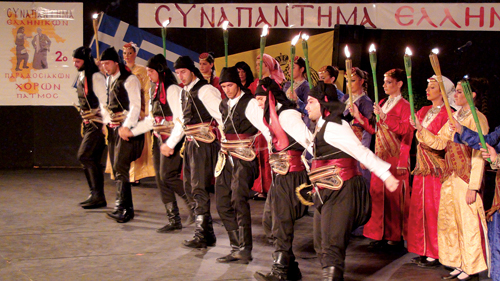 Patmos Folk dance Festival
The Festival of Folklore Dances in Patmos highlights the island's tradition through a great celebration. Many dancing groups unite from many parts of Greece. All dancers are dressed with the traditional costumes symbolizing the strong connection to the traditional and historic events of each region.